On March 27, a very special event took place at the very beautiful Stevinson Praca de Toiros. On that date, a festival was held to celebrate the 45th Anniversary of San Francisco's Pena Taurina Sol y Sombra. The cartel was made up of aficionados practicos Bruce Hutton, Jim Verner, Mario Orlando, Michael Rauner, and Adam Thorpe, who faced vaquillas from Joe Martin's Ganaderia Acoriana. In addition, a last minute enhancement to the cartel was that of Venezuelan matador Curro Ortega "El Marabino", who faced a novillo from the same ganaderia.

The festival turned out to be quite successful, with three of the five vaquillas which were fought that afternoon giving out an excellent play, they were brave and went for the cape and the muleta repeatedly and charging with their heads down. One of these vaquillas was really an extraordinary animal –the one fought by Michael Rauner- that helped make Rauner's performance truly a delight. Of the remaining two vaquillas, one was smaller than the rest, and although she also charged, it was not as with the quality and class of the other three. The last vaquilla was quite the opposite, turning out to be more complicated and gave aficionado practico Jim Verner a real challenge. To wrap up the afternoon, there was a fairly sized and bravo novillo, which was fought by the Venezuelan matador Curro Ortega "El Marabino", a surprisingly and very pleasant last minute presentation.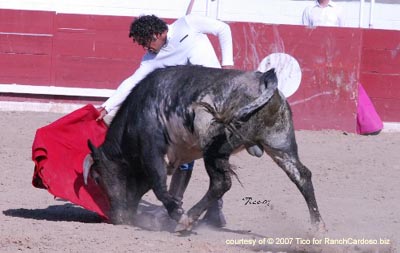 click here or on image to view more pictures from this event
The Festival started at around 2:00 o'clock, on very favorable weather conditions. It was a beautiful spring afternoon in the Central Valley, which normally experiences much hotter weather during the summer months. Several people made the trip from the Bay Area, some of them members of Pena Taurina Sol y Sombra (PTSS), and some others were aficionados who wanted to be part of the event. In addition, several members of Sacramento's Club Taurino El Redondel also made the trip. PTSS's president, Rosalbina Prebil, acted as Juez de Plaza, or Presidente.
All practicos made the paseillo impeccably dressed with traje corto. Bruce Hutton started out the event. His vaquilla was really good, from the moment she saw Hutton's capote she went after it. A couple of good veronicas were performed and that was the end of it. Unfortunately, Hutton suffered a rib cramp of some sort and retired from the arena. He wouldn't come out any more, and it was too bad, as the vaquilla turned out an excellent play. Several of the practicos took advantage and alternated with some good passes with the muleta, including a very good pase cambiado, or pendulo, performed by Jim Verner.
Second at hand was Mario Orlando, who faced another good animal. Orlando really looked masterful, with a very classy style, with his feet sunk in the sand and remaining very vertical and steady while performing veronicas, to finish up this part with a beautiful larga. He looked just as good with the muleta, especially with the naturales.
Adam Thorpe was next, and he also had an outstanding performance with a vaquilla that was really good. With the capote he performed a good quite por gaoneras, which came out really nice. With the muleta he was good on both sides, but the muletazos with the right hand were pure excellence.
Michael Rauner faced perhaps the best vaquilla of the afternoon. This was truly a great animal, with a lot of quality and class. A very brave vaquilla allowed Rauner to elaborate some really good muletazos both with the right hand, as well as with the left hand. You could tell he was really enjoying what he was doing.
The turn was for Jim Verner with a very complicated vaquilla. He started out good with the cape, but it appeared that the vaquilla looked more for his body than for the lure. And it turned out to be so, because she finally caught Verner and pressed him against a burladero, picked him up and tossed him up in the air, luckily without consequences, as the quick assistance of some of the practicos got the vaca away from him. Nonetheless, he was able to get some artistic muletazos, even with an animal of such difficulty.
To wrap up the afternoon, the novillo came out for matador Curro Ortega. You could tell right away that this was someone with enough experience and skill only a matador can possess. He was really impressive with the cape, being able to achieve a couple of veronicas really slow and with a lot of temple. With the muleta he did all he wanted with the novillo, whether he held the muleta with his right hand or with his left hand. Either side he was equally good.
He told me after he had fought the novillo that he had lived in Spain for ten years, and that he is now living in San Diego. Apparently, he has been performing in Mexico, and at the present time he is looking for more opportunities to appear either in Mexico, or in the bloodless bullfights in California.
After the event, the whole group gathered by the food stand and had a wonderful time, drinking a beer or a coke and having something to eat.
Best of all, everyone one there seemed to really have enjoyed the day. From the practicos and the matador, who together really put up a great effort well reflected by their performance, as well as the ganadero, who must have felt really proud of his vaquillas and the brave novillo.
But especially, the members of San Francisco's Pena Taurina Sol y Sombra, who must have felt really good that the event they organized to celebrate their 45th anniversary turned out to be a very successful one.